Homesnap Pro
Stay connected with clients and access all your MLS data on the go – at no additional cost, with CRMLS.
Coming Soon to Pasadena-Foothills & Ventura Flexmls
Homesnap is a real estate search platform for consumers to explore homes and search MLS real estate listings online or from a mobile phone. The Homesnap app allows users with a smartphone or tablet to snap a photo of any home to get the scoop: home value, interior photos, bedrooms, bathrooms, taxes, lot boundaries, public school info, and much more.
Homesnap Pro is a robust, agent-only version of Homesnap that offers real-time MLS data to mobile and desktop users, arming them with the power of their MLS whether they are in the field or at the office. Homesnap Pro gives agents the flexibility to research homes, contact agents, and communicate instantly with clients from any modern device. Agents and consumers can use Homesnap Pro to seamlessly share real-estate information and communicate directly.
Additional Homesnap Pro features include Rapid CMA generation, Safety Timers to stay safe at showings, and the ability to create branded Facebook ads in-app.
Best of all, Homesnap Pro is available at no additional cost to all CRMLS users. Sign up at Homesnap.com or via the Homesnap App in the Android and iOS App Stores.
Click here
to see what makes this app stand out from other app offerings.

Register for an upcoming webinar:
Join a Webinar
Download the Homesnap App from the Apple Store or Google Play to get started!
---
The Snapshot
A podcast for real estate agents about technology, social media, client development and marketing. On the show, they talk to agents across the country who are doing interesting things with marketing so that you can get ideas for how to build your own business.
---
Interested in learning more about Homesnap? See the helpful video links below:
---
Testimonials: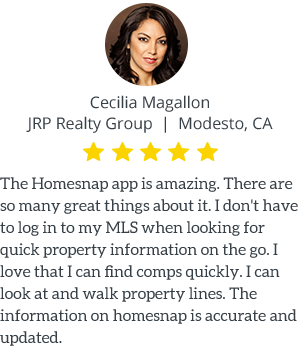 ---