RatePlug
Provide crucial affordability information that consumers want to see when searching for a home.
This is a core CRMLS product, available to CRMLS users at no additional cost
RatePlug is an automated marketing program that enables agents and lenders to combine their strengths in the pursuit of increased sales. Agents can choose the lenders they currently work with, and lenders provide accurate mortgage payment information which displays conveniently within the property listing, building trust between consumer, agent, and lender. RatePlug also lets the Agent know if their listings are eligible for special financing programs such as FHA, VA, or USDA, which can increase the pool of buyers.
Consumers can view in-depth payment details, customize the mortgage data to explore different "what-if" scenarios, and apply for preapproval with lenders. Lenders can use their own data to generate impressive flyers for increased awareness of property data and mortgage payment scenarios.
Research shows that agents who use RatePlug sell homes faster because they provide buyers up front with the mortgage information that they want to see when searching for a home. There is no additional cost for CRMLS users to benefit from this program.
Click here to view the RatePlug flyer.
Click here to get started:
Sign Up

---
New Virtual Property Flyer Feature
Keep Vital Information Flowing to Buyers During Stay-at-Home Period
The new Virtual Flyer is ideal for an Agent's virtual tours and open house events. This online tool keeps fresh property and payment information flowing to homebuyers. The listing Agent will automatically receive a link to the flyer which they can send to prospective buyers. Other features include:
• Easy Export to Social Media – Also SEO friendly link.
• Share with potential Buyers for Virtual, Streaming or in-person Open House.
• Use with Showings to help buyers understands special finance options available.
• All information on the Flyer is dynamic and updated in Real-Time.
• Buyer can interact directly with Agent or Loan Officer.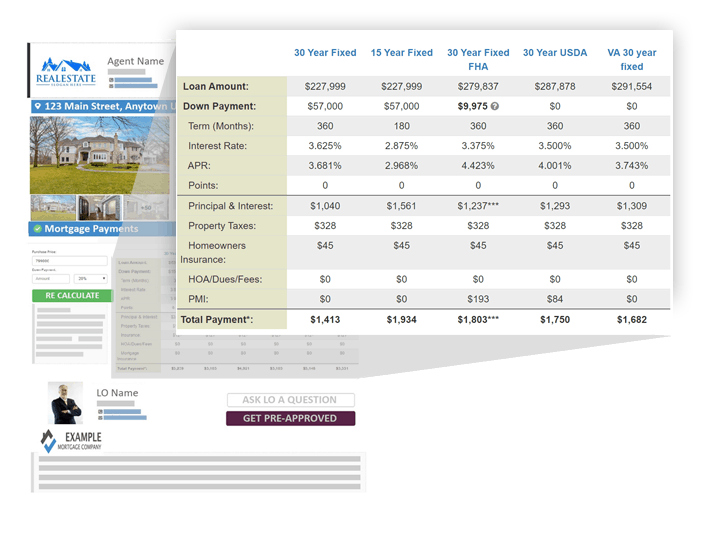 When You Display Affordability On Your MLS Listings, Great Things Happen…
Passive buyers become active buyers. When you connect your originators to your MLS listings, you help the home buyer better understand affordability.
More time on page. When RatePlug is embedded in your listings, homebuyers spend more time viewing your property listings. That means better informed buyers!
Engage active buyers. RatePlug connects the agent and originator to the MLS and the home buyer who is ready to buy – not just browsing.
Custom Real Estate Flyers Included
When you list a new property on CRMLS, RatePlug also allows your loan officer to create custom flyers for your listing that include their mortgage information.
RatePlug for Loan Officers